Generations at Oakton has a great staff. When you visit or tour Generations at Oakton, you will have the opportunity to meet members of our leadership and management team. Please make a point to stop in and introduce yourself while you are visiting our community. Our staff loves to meet the families and friends of our residents and guests.
Patrick DiPaolo
Administrator
Patrick DiPaolo joined Generations Healthcare Network in January, 2019 as Administrator at Oakton Arms and Oakton Pavillion.
With over 20 years of diverse health care management experience, Patrick most recently was the Administrator for Lexington of Schaumburg, a skilled nursing and rehabilitation center. Prior to that, he served as Administrator for Rosewood Care Center of Inverness. He earned a bachelor's degree ion psychology from Indiana University.
"What stands out about Generations is the sincere concern shown by staff for the well-being of residents," Patrick shared. "Each and every one of our residents is treated with such kindness, compassion and sensitivity."
An avid New York Yankees fan who grew up in Flossmoor, Patrick plans on building upon Oakton's three decades as a trusted community resource for health care…right off the bat.
"I look forward to creating an environment that entices the community to visit and learn about our services," he explained. "We want to strengthen Oakton Arms and Oakton Pavillion's role as the premier health care provider in Des Plaines, Mt. Prospect and the surrounding suburbs."
Mylin Lardizabal
Director of Nursing
Mylin, a Registered Nurse, oversees the front-line care of each resident and the work of the staff who administer that care. Mylin hails from a culture where caring for the elderly is strictly a family responsibility; here in Des Plaines, she sees her profession as a form of nobility, and makes it her goal to create the environment of a family among both her residents and her staff.
With more than 20 years of experience in long-term care, Mylin joined Generations at Oakton in 2014 as Assistant Director of Nursing and was promoted to Director of Nursing in 2015. Previous to this, she worked as a charge nurse and Medicare unit coordinator.
"The beginning of life is celebrated, why isn't the rest?" she asked. "What could be more privileged than to help someone have quality of life? It's an honor for me to be here."
A native of the Phillippines, Mylin earned a Bachelor of Science degree in Nursing from the University of Santo Tomas. She is certified as a Gerontological Nurse.
Now, her duties range from budgeting and ordering to assessing programs and looking for ways to improve. And she walks rounds on each of our floors daily, checking in with our residents herself.
"If you don't have the heart for this, then you shouldn't be in long-term care," she said. "If we aren't going to be there for that person, who's going to be there?"
She also loves to spend time with her husband, two daughters and her mother while absorbing all things Chicago Blackhawks.
Kelly Rentas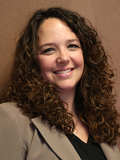 Director of Community Relations, Oakton Arms and Oakton Pavillion
Generations at Oakton Arms is the independent living building on the Generations at Oakton campus; overseeing its day-to-day operation is Kelly Rentas, our Director of Community Relations. Sometimes found in her office, Kelly is just as often speaking with residents in the atrium or meeting visitors who came to the Arms for one of its open-to-the-public activities.
"I do the paperwork side of it, but I still get to see everyone thrive," she said. "That's what makes it enjoyable."
With a master's degree in nonprofit management from DePaul University, Kelly spent 15 years working for hospitals, the United Way and more, then moved into home health care. The Arms offers both one-bedroom and studio apartments, and Kelly enjoys getting to know the wide variety of backgrounds that residents come in with.
After years as the director of community relations, she has accumulated the stories and experiences of so many past renters.
"It's given me a different perspective on things," she said. "How one manages life is different for everyone. But they've all worked hard in life, and I like knowing that dignity and care are here for them."